Smarter Lunchrooms Movement
The Smarter Lunch Movement, developed by the Cornell Center for Behavioral Economics, is dedicated to providing schools with the knowledge, motivation, and resources needed to build a lunchroom environment that makes healthy food choices the easy choice.
The Movement brings evidence from the fields of economics, marketing, and psychology into the school cafeteria. Smarter Lunchrooms strategies are free or low-cost solutions that nudge students to voluntarily select the healthiest food in the lunchroom. Smarter Lunchrooms can see less waste, higher participation, more satisfied students, and increased consumption of important nutrient-rich foods. To learn more visit: https://www.smarterlunchrooms.org/
Click to view or download the Smarter Lunchrooms Scorecard.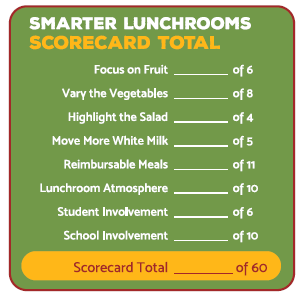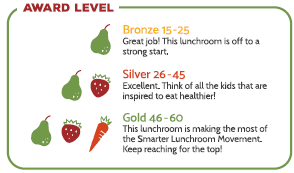 Cabarrus County and Kannapolis City Schools Participating in the Smarter Lunchrooms Movement
Bethel Elementary

Hickory Ridge Middle School

Weddington Hills Elementary

NW Cabarrus Middle School

CCS Opportunity School

Charles E. Boger Elementary School

Woodrow Wilson Elementary School

W.R. Odell Primary School

Patriot's Elementary

AT Allen Elementary

CC Griffin Middle School

JN Fries Middle School

Performance Learning Center

Beverly Hills Elementary School

Concord Middle School

Hickory Ridge Middle School

Mt. Pleasant High School

Mt. Pleasant Middle School

Mt. Pleasant Elementary

Harrisburg Elementary

Pitts School Rd. Elementary

McKnight Head Start

Coltrane Webb Elementary

JM Robinson High School

NW Cabarrus High School

Rocky River Elementary

Carl A. Furr Elementary

Winecoff Elementary

Fred L. Wilson Elementary

W.R. Odell Elementary School

Cox Mill Elementary

Central Cabarrus High School

Harold E. Winkler Middle School

Concord High School

WM Irvin Elementary School

Carver Elementary School

Harris Rd. Middle School

Cox Mill High School

AL Brown High School